BoatBlurb.com is celebrating this week as it marks its 3rd year since going online on May 12, 2020. Under the umbrella of Digital Era Media and BoatDealers.ca, BoatBlurb provides boaters with industry leading news and information through a weekly newsletter and full featured blog website.

KINGSTON, Ontario - May 10, 2023 - PRLog -- BoatBlurb's mission is to excite and educate boaters by broadcasting engaging news and insights provided by the boating community.  The digital platform publishes the latest on the boating lifestyle including products, destinations, tips, history, and boating culture for enthusiasts of all levels.

BoatBlurb currently has over 17,500 newsletter subscribers, with the website generating over 1.3 million unique visitors resulting in 1.9 million article views. In the last 12 months, BoatBlurb.com has received over 968,000 pageviews and now averages over 80,000 pageviews per month. Despite being based in Ontario, Canada, readership includes a significant subscriber base in the United States, the United Kingdom, Sweden, Australia, New Zealand and beyond.

From Chris Perera, President of Digital Era Media and producer of BoatBlurb.com: "Ultimately we wanted to create a platform to keep boaters boating and encourage new boat ownership. By providing engaging topics ranging from skills, news, destinations, products and experiences from multiple contributors, BoatBlurb has become a truly unique media in the Boating community. At the end of the day, we are passionate boaters too."

From BoatBlurb Editor Scott Way: "BoatBlurb has been on a fascinating journey for the last three years. In recent months we've watched our subscribership expand drastically, and every day we're seeing more boaters from around the world join the movement. I don't think there's another resource that brings such a diversity of topics or as much helpful information as BoatBlurb. We've helped thousands of recreational boaters improve their skills, learn more about the 'boat life,' and become strong advocates for both the community and the industry. I couldn't be more proud of the BoatBlurb team."

Top Stories Since Launch:
Follow BoatBlurb on social media to catch the latest stories on
Facebook
,
Twitter
,
LinkedIn
, and
Instagram
. Contribute to BoatBlurb by sharing your own experiences, knowledge, and press releases. Sign up for the weekly newsletter at:
https://www.boatblurb.com/subscription
About Digital Era Media Inc
.: Digital Era Media Inc. (DEM) is a new age media company focused on digital technology and its application to media. It currently produces the MyDealers.ca suite of sites which includes
BoatBlurb.com
,
BoatDealers.ca
,
OutboardDealers.ca
,
RVDealers.ca
,
MotorcycleDealers.ca
,
SledDealers.ca
, and
QuadDealers.ca
. Launched in 2001, BoatDealers.ca is the top visited and most effective online platform for buyers and sellers of new and used boats across Canada. Over the past 12 months, BoatDealers.ca (https://www.boatdealers.ca/) generated over 15 million pageviews from over 1.6 million unique visitors.
Media Contact
:
Scott Way
Editor & Social Media Manager
Digital Era Media Inc.
1.888.909.4336 ext. 7013
editor@boatblurb.com
Photos: (Click photo to enlarge)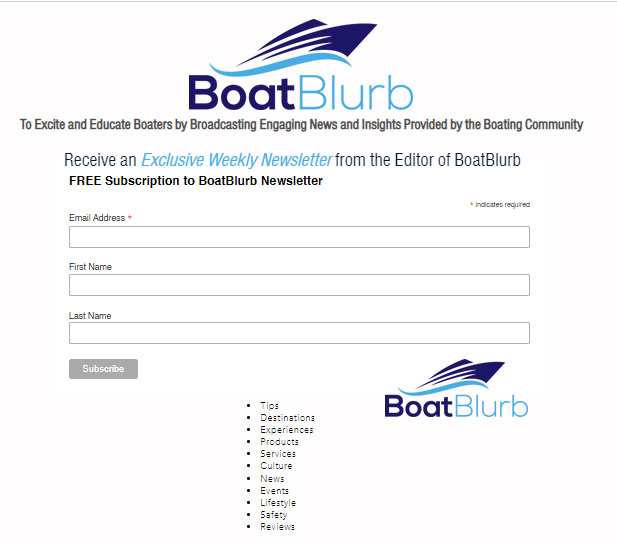 Read Full Story -
BoatBlurb.com Celebrates Third Year Anniversary with Record Subscribers
|
More news from this source
Press release distribution by PRLog