These Asia-Pacific central banks have paused rates for now. Who could be first to cut?
April 17, 2023 at 21:13 PM EDT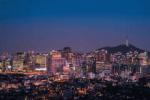 The Bank of Korea was the first to hold rates steady after being one of the first nations to hike in the pandemic era — and could become the first to cut rates in the region.