Is a Cloud Computing Comeback in the Making?
June 02, 2022 at 09:01 AM EDT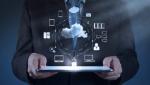 Like the rest of the technology sector thus far in 2022, cloud computing has fallen to the wayside despite being a much-celebrated sub-sector amid the pandemic. With social distancing measures easing and global inflation rising, cloud computing has gone unloved, but are things changing? "With...