Do you own these "entrepreneur stocks"?
May 02, 2021 at 10:00 AM EDT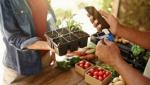 Isabelle Rodriguez penned the tweet she would send from her grave. But 24-year-old Rodriguez wasn't dying, or even ill. She was using Cake, a new "app" that lets you plan your funeral. Selling death to young folks used to be a tough gig. But COVID has been a boon for funeral start-ups. Cake's...