Can These ETFs Benefit from More Defense Spending?
November 02, 2020 at 22:39 PM EST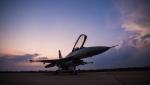 The COVID-19 pandemic has wreaked havoc on the aerospace and defense (A&D) sector in 2020, especially with the aerospace suffering from travel restrictions. However, the defense side of A&D can still prop up the industry with more government spending. "The story of the decline and the...