Are Cloudy Skies Ahead for Bullish Oil Investors?
October 05, 2020 at 12:02 PM EDT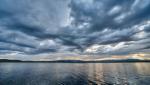 U.S. President Donald Trump's diagnosis of the coronavirus did no favors for oil prices, which have been languishing after they rebounded from April's dive into negative territory. Additionally, more headwinds are in store for oil, which could continue to put a bearish spin on the...