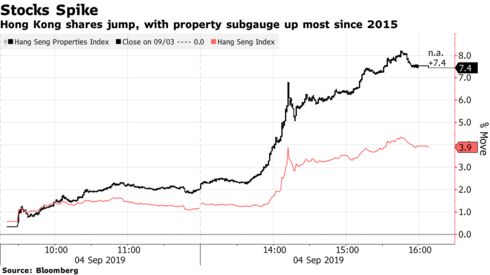 What a night it's been!
The MSCI Hong Kong Index popped 5.4% – the biggest gain since a massive stimulus bill in October, 2011 led by Real Estate firms that almost hit the limit up 10% as the Government finally gave in to protesters and witdrew the extradition legislation that had started the protests over a month ago.  Hong Kong also declined to set up a comission to investigate the protesters – another point of contention. 
The index had fallen 8.6% in August as the protests raged and properties were down 20% as the real estate market ground to a halt and values began dropping.  It's not clear, however, that the protests will end as there are several more issues on the table but any sign of flexibility on the part of the Government is a huge step forward and, for now, the markets are thrilled.
Yesterday we also noted that, while Boris Johnson was talking on the floor of Parliament, one of his House Conservatives, Phillip Lee literally got up and walked across the aisle to join the opposition party, taking Johnson's one-vote lead with him. 
"I have reached the conclusion that it is not possible to serve my constituents' and country's best interests as a Conservative Member of Parliament," Lee said in a statement.  "This Conservative government is aggressively pursuing a damaging Brexit in unprincipled ways. It is putting lives and livelihoods at risk unnecessarily and it is wantonly endangering the integrity of the United Kingdom."
If only the Republicans in this country had the same level of integrity!  Lee's defection stops Johnson from forcing a "NO DEAL" Brexit next month and, of course, that's a massive relief to European markets.  Lee inspired 21 other Conservative politicians to defy the Prime Minister and vote to delay Brexit until 2020.  Johnson was, of course, outraged and called for a general election in an attempt to get the public to give him more Ministers but he's clearly lost control of his party already.
"Parliament is on the brink of wrecking any deal we might be able to strike in Brussels," Johnson said. "Because tomorrow's bill would hand control of the negotiations to the E.U. And that would mean more dither, more delay, more confusion."
British politics are so much fun!  
IN PROGRESS