A fatal mistake on a drunken night in college comes back to haunt a troubled artist after eighteen years, threatening his friendships, his sanity, and his life.
(PRUnderground) June 13th, 2019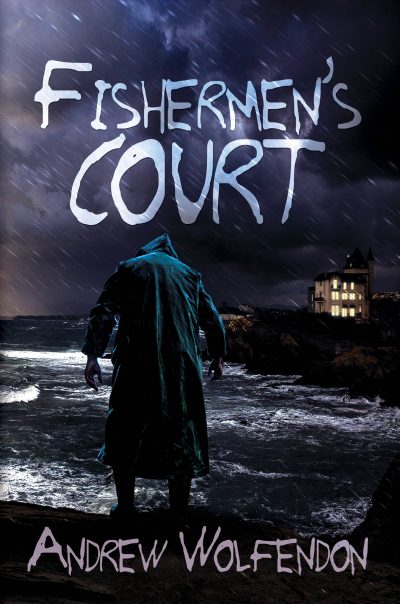 "An exciting, fresh new voice in a thoughtful crime thriller." – Best Thrillers
"[T]he twists and turns of this fast-paced suspense kept me guessing from the opening pages until the very end." – Online Book Club
"A thriller of epic proportions, this is one of the most suspenseful books I ever had the pleasure to read." – Readers' Favorite
Suspense, drama, and mystery converge in Fishermen's Court, a new novel by Andrew Wolfendon that features an engaging narrative voice and a vivid coastal New England setting.
Finn Carroll is a washed-up artist living a marginal existence in his dead parents' home. The opening lines of the novel set the tone: "Ever see that old beer commercial: 'Life doesn't get any better than this'? That's what I'm afraid of." So why would a team of hired killers want to murder Finn and frame it as a suicide? He narrowly survives the encounter to find a suicide note the men have planted on his computer. Seemingly written in his own voice, it attributes the "suicide" to guilt over a real incident from Finn's past—a careless but lethal act he's been trying to forget for two decades; one that no one else on Earth could possibly know about.
Finn escapes to Musqasset Island, his former home, to seek refuge with an old friend. He thinks he has eluded his would-be killers by catching the last ferry before a coastal storm strikes, but soon discovers he has trapped himself on the tiny island with the very people who want him dead. Now he must scramble to find out who the killers are, what they want, and why his past is suddenly reawakening after eighteen years—no easy task in a raging storm, where communications are shaky and friendships (and Finn's mental state) are even shakier.
Fishermen's Court is a story of friendship and trust and the corrosive power of secrecy. It will appeal equally to a thriller audience and to readers of "literary" fiction. Fans of Harlan Coben, Tana French, Nelson DeMille, and William Lashner will enjoy its humor-laced narrative voice.
Fishermen's Court won first place in the inernational 2018 Novel Opening Chapter & Synopsis Competition. The author, Andrew Wolfendon (https://www.andrewwolfendon.com), is a ghostwriter of over sixty books for adults and children. His screenplays have been optioned numerous times in Hollywood. He has written/designed over twenty-five computer and video games, many of which have won major industry awards, and his award-winning stage play Empties has had multiple productions. Fishermen's Court is his first novel.
Copies of Fishermen's Court are available at all major booksellers, including Amazon, Barnes & Noble, and Black Rose Writing
Print and Electronic review copies available upon request
Contact: Christopher Miller / Social Media & Marketing Expert, Black Rose Writing
About Black Rose Writing
Black Rose Writing is an independent publishing house that strongly believes in developing a personal relationship with their authors. The Texas-based publishing company doesn't see authors as clients or just another number on a page, but rather as individual people… people who deserve an honest review of their material and to be paid traditional royalties without ever paying any fees to be published.
Press Contact
Name: Christopher Miller, Social Media & Marketing Expert

Phone: 2107673256

Email: pr@blackrosewriting.com

Website: www.blackrosewriting.com/home
Original Press Release.