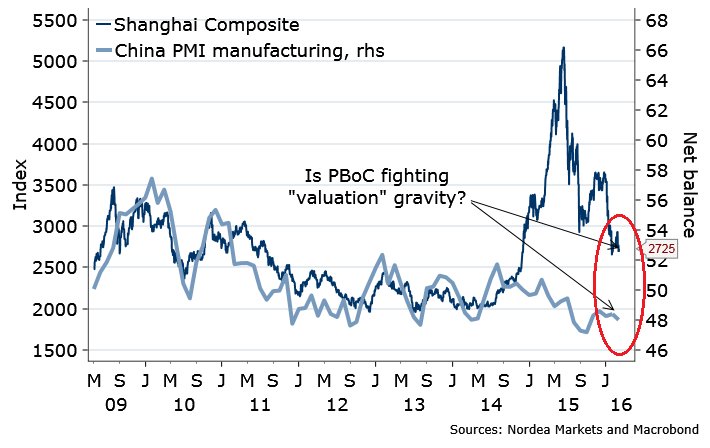 700Bn Yuan!  
Relax, it's only $106Bn but still, a nice boost from the PBOC this morning as the dropped reserve requirements by another 0.5%, freeing up 700Bn Yuan of reserves.  China's economy is (supposedly) half the size of ours so that''s like dropping a $200Bn stimulus on our economy – similar to what Bush did back in the day - it was good for a couple of months and then – CRASH!!!  The stimulus shot covered up even weaker than usual PMI numbers (49, down from 49.4 and below 50 is contracting), the worst since Jan, 2009.  Crash indeed.  
The services gauge slipped to 52.7 in Feb, from 53.5 in Jan. Measures of new orders, selling prices, employment, backlogs and inventories were below the 50 dividing line between improving and worsening conditions.  On the official manufacturing measure, the new orders, employment and purchasing quantity components slipped.  A separate manufacturing reading from Caixin Media and Markit Economics fell to 48 in Feb, from 48.4 in Jan.
"Early signs suggest stimulus has yet to gain significant traction, pointing to the need for continued and expanded policy support," Bloomberg News economists Tom Orlik and Fielding Chen wrote in a note. "In the near term, that likely means the announcement of a larger fiscal deficit target at the National People's Congress on Saturday, plus stealth moves to guide lending rates lower."
Before the stimulus was announced this morning, the Shanghia Composite was down 4.6% but the MORE FREE MONEY announcement got us back over the critical 2,700 mark to close positive at 2,733.  So yay, I guess – all is ??well?? in China once again and we can get back to worrying about the rest of the World, which is also popping on this "great" news out of China.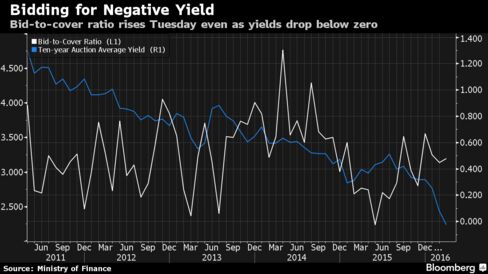 Japan had their first successful sale of 10-year NEGATIVE 0.06% bonds this morning.  Investors paid 101.25 Yen in order to get 100 Yen back in two years and 2.2 TRILLION Yen were sold this morning ($19.5Bn) with 3.2 times more bids than there were bonds available.      
Of course, keep in mind that Japanese investors…