San Diego, California--(Newsfile Corp. - August 29, 2023) - Sonim Technologies Inc. (NASDAQ: SONM) today announced availability of the Sonim XP10 5G ultra-rugged smartphone for T-Mobile Business customers in the US. Approved for sale on T-Mobile, America's largest and fastest 5G network, the tough XP10 enables users to tap into specialized capabilities designed to meet their mission-centric needs on the T-Mobile network.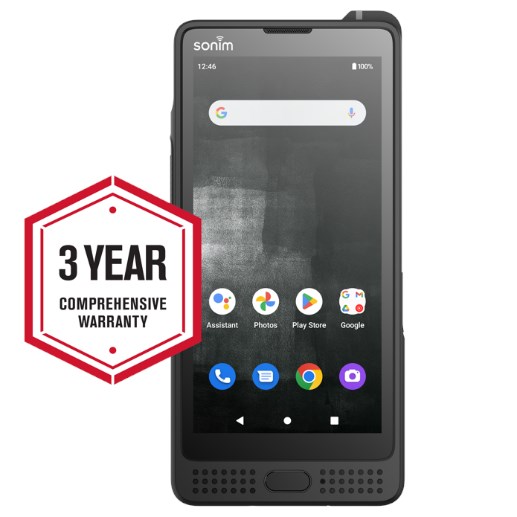 Sonim Technologies XP10 Smartphone now approved for use on T-Mobile

To view an enhanced version of this graphic, please visit:
https://images.newsfilecorp.com/files/8971/178773_e872d83af48d8a94_010full.jpg
"The Sonim XP10, born from public safety and enterprise user insights we've gathered over the years, signals a new generation of rugged phones, supercharged with 5G technology," said Michael Coad, SVP of Product at Sonim. "Our signature commitment to ultra-rugged performance standards, backed by a three-year comprehensive warranty, ensures the XP10 can withstand rigorous daily use while keeping those in extreme conditions connected -a non-negotiable requirement for our users.
This combination is fueling the growing demand from our customers across sectors and reinforces our confidence that delivering the latest generation of technology and outstanding performance in a sleek and rugged device for T-Mobile's business and government customers is something only Sonim can do."
The Sonim XP10, connected by T-Mobile's 5G network, is a versatile high-performance device designed to handle extreme conditions and everyday use. Designed with a sleeker aesthetic compared to existing ultra-rugged phones on the market, the XP10 boasts user-friendly tactile buttons, including one for T-Mobile's Direct Connect Push-To-Talk (PTT) service and another for emergencies. With its efficiency and versatility, the XP10 serves various use cases across multiple verticals. It's an ideal choice for first responders, and workers in hospital workers, oil and gas, transportation, logistics, restaurant, hospitality professionals, and more.
Snap and swipe without delay
Equipped with a dual rear camera system that boasts a 50MP primary lens and an 8MP wide-angle lens, alongside an 8MP front-facing camera, capturing mission-critical visuals in an instant has never been easier. Engineered for maximum convenience, the wet and glove-friendly touchscreen allows users to operate efficiently in damp environments without the need to remove their gloves.
Unyielding toughness with military-grade resilience
Certified to meet demanding military and industrial standards, including Class I-III, Division 2, and MIL-STD-810H1, the XP10 is designed with resilience in mind. It features pressure and puncture resistance, capable of withstanding up to one metric ton of pressure and impact energy of 4J (joules) on its protective outer shell. And with IP68/69K rating, the device is both waterproof and dustproof2.
The XP10 has successfully passed Sonim's rigorous 12-point Rugged Performance Standards (RPS) testing, ensuring it can withstand spraying, submersion, and thorough cleaning with soap and water or potent chemicals like isopropyl alcohol or bleach.
The device also comes with a comprehensive 3-year manufacturer's warranty3 at no additional cost, offering significantly more extended coverage than competing devices in its class.
A true powerhouse of productivity
Experience uninterrupted productivity with the Sonim XP10's 5000mAh battery, providing dependable power for extended work shifts without the need for constant recharging.4 For added convenience, the XP10 supports fast charging and wireless charging. Equipped with 6GB of RAM and 128GB of internal storage, it delivers seamless performance across various applications. It also supports up to 1TB of external storage (sold separately)5, ensuring ample space for data and applications.
Hear clearly above the noise
Stay connected and be heard even in the noisiest work environments through the 100dB+ speakers, expertly integrated with Goodix® Echo and Noise Cancellation Technology6.
Instant group communication at the press of a button
The XP10 supports T-Mobile Direct Connect7 Push-to-Talk service providing efficient group communications at the press of a button using built-in loudspeakers.
Complete communication solution
A selection of accessories designed for diverse industries are sold separately. Choose from ultra-rugged headsets, Remote Speaker Microphones (RSM), vehicle kits, multi-bay chargers, and cases.
To learn more contact T-Mobile at t-mobile.com/business/b2b-contact-information or call T-Mobile at 1-877-887-6809, or Sales@sonimtech.com, Sonim XP10 5G.
For channel and resellers, visit:
1 Based on SGS lab testing & certification. The MIL-STD-810H testing includes drop testing onto concrete with the device on its face, corners and edges a total of 26 times each. These devices meet and/or exceed specification (MIL-STD-810H) testing against a subset of 13 specific environmental conditions, including temperature/humidity, dust, shock/drop/vibration, water and solar radiation. Real world usage varies from the specific environmental conditions used in MIL-STD-810H testing.
2 Based on SGS lab testing & certification. These devices meet and/or exceed IP68/69K testing against a vacuum test with talcum powder for 8 hours on 5 devices and testing the device against 7 different conditions including turntable speed, waterflow, water pressure, water temperature, test position, test distance from jet to sample and test duration. Real world usage varies from the specific conditions used in IP68/69K testing.
3 The 3-year warranty covers everything except the following:
(a)damage resulting from abuse, accident or misuse; (b) damage resulting from use outside the parameters indicated in the User Guide, including those related to liquid, shock and dust exposure; (c) cosmetic damage including dents and scratches; (d) ordinary wear and tear; (e) damage resulting from use of this mobile phone with accessories, equipment or other mobile phones or equipment not furnished or expressly approved by Sonim; (f) damage resulting from third-party software; (g) damage resulting from maintenance, service adjustment or installation of the mobile phone, performed or attempted by any person or entity not expressly authorized by Sonim; (h) loss of use of the mobile phone (i) loss of data, information or third-party applications or software; (j) fire, flood, windstorm, lightning, earthquake, exposure to extreme weather conditions, electrical surge or improper voltage; (k) mobile phone performance issues resulting from cellular signal reception or transmission, (l) damage resulting from viruses, malware, trojan horses or other software problems; and (m) mobile phones in which the serial number is missing or has been altered, damaged or defaced. Warranty on the battery and accessories is 1 year.
4 Use only a Sonim XP9900 certified battery. (BAT-05000-1S) is designed for this phone model.
The use of other batteries may cause permanent damage to your device, thus voiding the warranty.
It is recommended to protect the battery from extreme temperature environments and moisture.
Please keep the battery out of the reach of children.
5 External storage SD card not included. Must be purchased separately.
6 To prevent possible hearing damage, do not listen at high volume levels for long periods of time.
7 Separate subscription required.
###
About Sonim Technologies, Inc.
Sonim Technologies is a leading U.S. provider of ultra-rugged, rugged and consumer durable mobile devices designed to provide extra protection for users that demand more durability in their work and everyday lives. We currently sell our ruggedized mobility solutions to several of the largest wireless carriers in the United States-including AT&T, T-Mobile and Verizon-as well as the three largest wireless carriers in Canada-Bell, Rogers and TELUS Mobility. Our ruggedized phones and accessories are also sold through distributors in North America and Europe. Sonim devices and accessories connect users with voice, data, workflow and lifestyle applications that enhance the user experience while providing an extra level of protection. For more information, visit www.sonimtech.com.
Media Contact
Anette Gaven
M: 619-993-3058
pr@sonimtech.com
Investor Relations Contact
Matthew Kreps
M: 214-597-8200
mkreps@darrowir.com
To view the source version of this press release, please visit https://www.newsfilecorp.com/release/178773