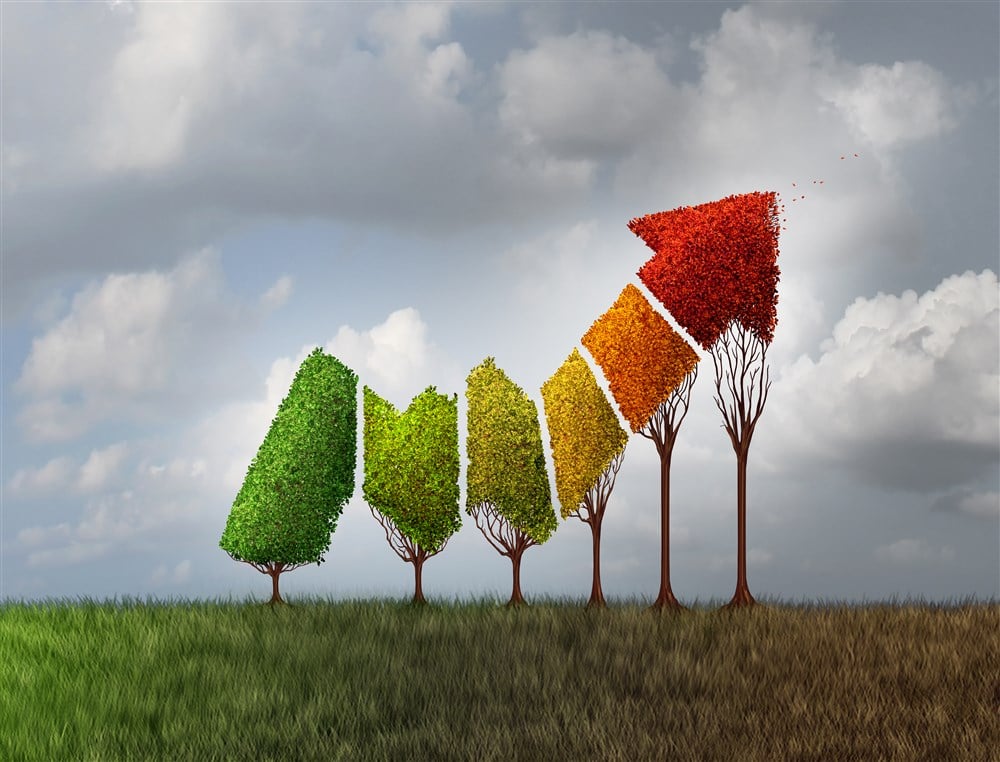 The start of school means that autumn is just around the corner. As temperatures drop, certain seasonal factors come into play in the country and specific industries. The stock market is a forward-looking entity which means investors need to react now in preparation for a move in the future. Two industries start to see money flow as the end of the year approaches: soup and health insurance companies. Frigid weather prompts consumers to buy consumer soup, especially during macroeconomic uncertainty. The end of the year also starts up the open enrollment season for health insurance. People can switch health insurers from November 1, 2023, to January 15, 2024. These two stocks are underperforming the benchmark indices but could also be coiling from their dip to undergo their historic rally in the fall.
Soup is affordable, convenient, tasty, nutritious, and nourishing. Cold weather means more soup consumption. This is especially true when household budgets must be stretched to make every dollar count. Campbell is synonymous with soup coining the phrase "Soup is good food.". Campbell has evolved and expanded its product line, which includes meal and beverage brands V8, Prego, Pepperidge Farm, Swanson and Pace. Its snacks division saw strong 12% growth in its Q3 2023 earnings. Its portfolio of snack brands includes Cape Cod, Lance, Kettle Brands, Late July and Goldfish. On August 7, 2023, Campbell Soup announced the $2.7 billion all-cash acquisition of Sovos Brands Inc. (NASDAQ: SOVO), maker of Rao's Brand products.
Steady Eddie Earnings
Campbell reported its fiscal third-quarter 2023 earnings on June 7, 2023. The company recorded non-GAAP earnings-per-share (EPS) of 68 cents beating analyst estimates of 65 cents by 3 cents. Revenues grew 4.6% year-over-year (YoY) to $2.23 billion, matching consensus analyst estimates. The market reacted with a controversial 5% sell-off in shares as the EPS beat was sequentially smaller than the prior two quarters. Revenues also matched estimates instead of beating them modestly in the prior quarters.
Reaffirming Guidance  
Campbell reaffirmed fiscal full-year 2023 guidance for EPS of $2.95 to $3.00 versus $3.01 consensus analyst estimates. Full-year revenues are expected to rise 8.5% to 10% or $9.29 billion to $9.42 billion versus $9.37 billion analyst estimates. With high inflation, the consumer eating-at-home trend has a long runway, which could be a boon for Campbell Soup.
Campbell Soup analyst ratings and price targets are at MarketBeat.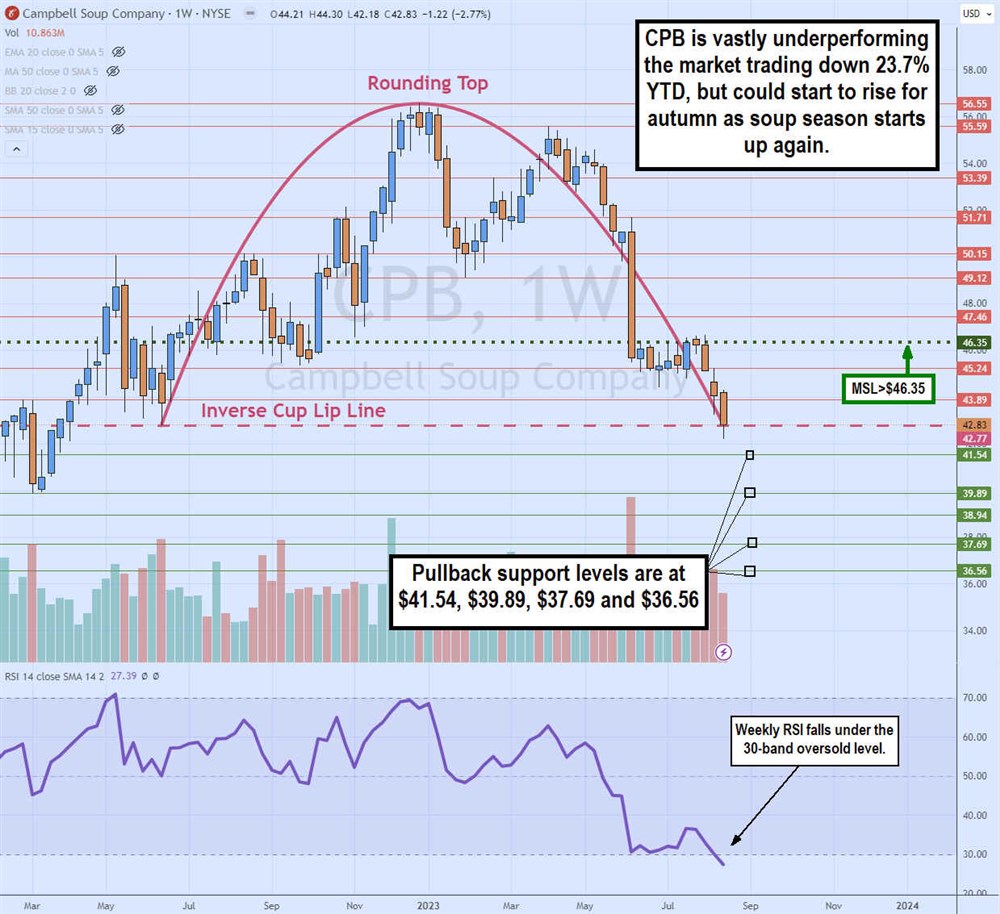 Weekly Inverse Cup Pattern  
CPB shares have been weak, trading near 52-week lows and severely underperforming the benchmark indices. Its weekly candlestick chart formed a rounding top as shares retest the inverse cup lip line at $42.77. Shares fell under the weekly market structure low (MSL) trigger at $46.35.The relative strength index (RSI) oscillator fell through the oversold 30-band level. Pullback support levels are $41.54, $39.89, $37.69 and $36.56.
UnitedHealth is the largest health insurance company in the country. It is also the largest Medicare Advantage plan provider in the nation. Medicare Advantage is a government-sponsored health insurance program for Medicare patients aged 65 and older. The monthly dues are paid directly to UnitedHealth from seniors' monthly social security payments.
Medicare Advantage Growth Driver
Unlike traditional Medicare, where seniors pay a 20% co-pay for health services and no drug plan, Medicare Advantage is a comprehensive plan that includes drug coverage. Medicare Advantage is the single largest payer and largest membership growth driver for UnitedHealth, accounting for nearly 35% of the total revenues for the company.
Historical Stock Price Appreciation in Fall
The UnitedHealth stock has risen in autumn every year since 2015, except for 2020 during the pandemic, when it fell 1.93%. The open enrollment season starts on November 1, 2023, and concludes on January 15, 2024. The company also operates Optum, a  pharmacy benefits manager (PBM), healthcare services manager and data and analytics provider for the healthcare industry. UNH shares are trading down 3.9% YTD and trade at 24.8X forward earnings.
Earnings Beat
On July 14, 2023, UnitedHealth reported its Q2 2023 EPS of $6.14, beating the $6.01 consensus estimate by 13 cents. Revenues grew 15.6% to $92.9 billion bearing $90.97 billion consensus analyst estimates. The medical care ratio was 83.2% versus 81.5% in the year-ago period.
In-line Guidance
UnitedHealth provided in-line guidance for fiscal full-year 2023 EPS between $24.70 to $25.00 versus $24.70 consensus analyst estimates. The company raised its low end of EPS guidance at $24.50 and then got lifted to $24.70.
UnitedHealth Group analyst ratings and price targets are at MarketBeat.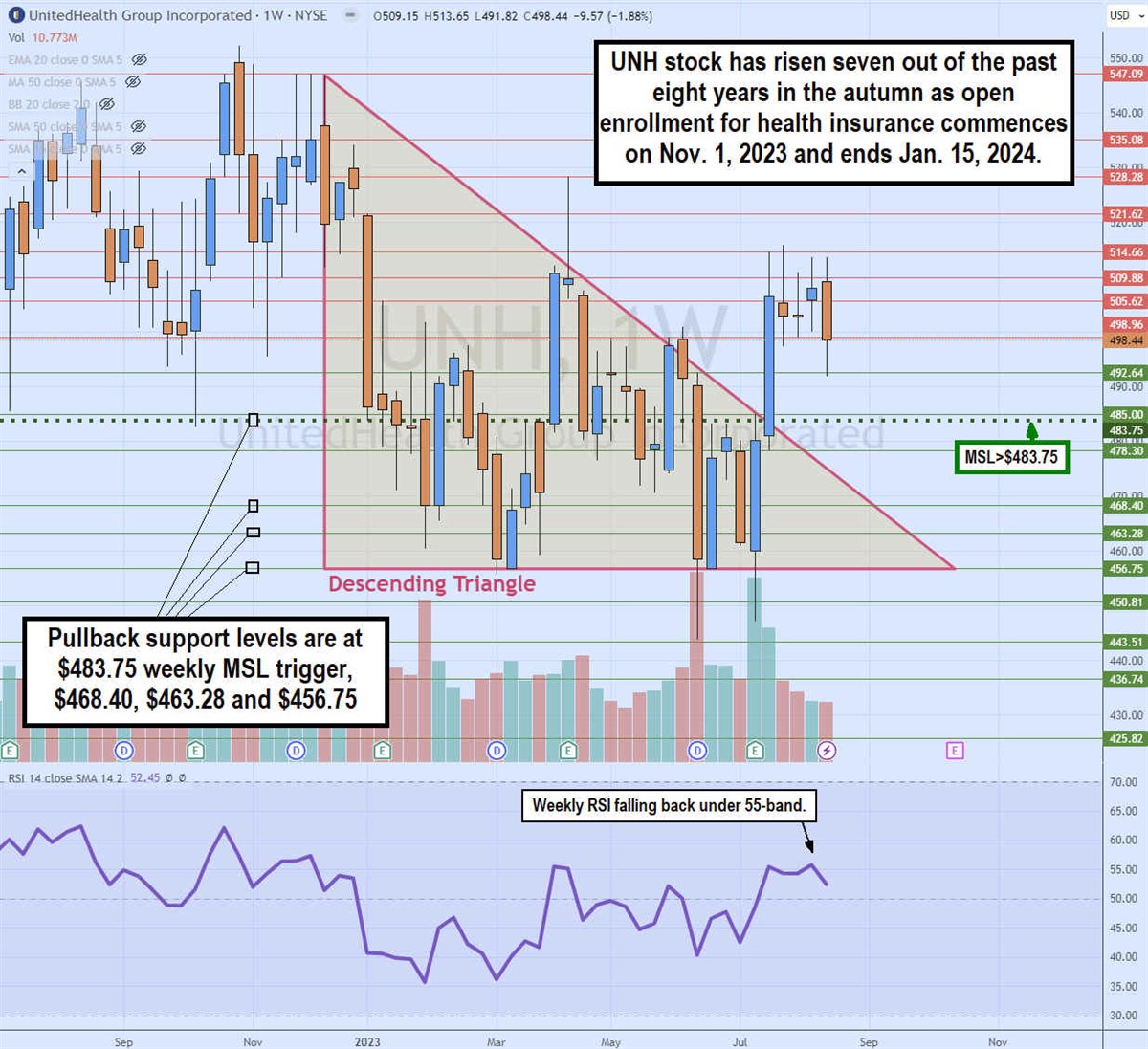 Weekly Descending Triangle Breakout
The weekly candlestick chart on UNH formed a descending triangle after peaking at $547.09 in December 2022. Shares fell to a body close horizontal flat-bottom trendline at $456.75 after hitting lows of $447.18. The weekly MSL trigger formed at $483.75 as shares continued making lower highs on the bounces to form the descending trendline. However, UNH triggered a weekly MSL breakout in July 2023, boosting shares from the descending triangle as they remained in a trading range between $490 and $515. The weekly RSI is stalled out and slipping at the 55 bands. Pullback support levels are $483.75 weekly MSL trigger, $468.40, $463.28 and $456.75.