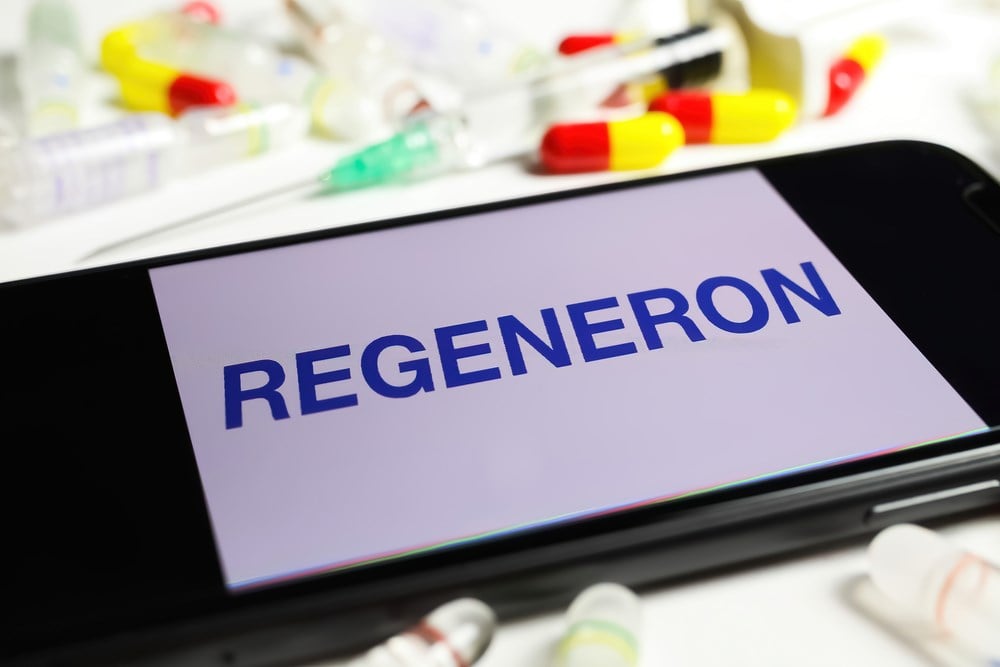 Regeneron Pharmaceuticals Inc. (NASDAQ: REGN) gapped down more than 6% on May 4, despite reporting better-than-expected first-quarter earnings and revenue.
Net income tumbled by 12% to $10.09 a share. That sounds bad, but it actually came in ahead of views, which called for $9.52 a share, a decrease of 17%. 
Revenue came in at $3.16 billion, topping expectations of $3 billion. It marked the first time in a year that revenue increased.
But what really caught investors' eye was a decline in sales for Regeneron's Eylea macular degeneration treatment. In the U.S. Eylea sales fell 5.2%; worldwide revenue dropped by 4%. 
Domestic Eylea revenue of $1.43 billion missed analysts' expectations for $1.55 billion.
A Poke In The Eye From Roche
The problem is competition: The decline in Eylea sales is occurring in the wake of Roche Holding ADR's (OTCMKTS: RHHBY) launch of Vabysmo, a longer-acting drug for macular degeneration which also requires half as many yearly treatments. 
The sales decline stings, because Eylea is Regeneron's second-biggest seller, after Dupixent, a treatment for severe eczema, asthma, and certain types of nasal inflammation.
However, Regeneron may have good news on the horizon: In June, the FDA may approve a longer-acting version of Eylea. 
Regeneron is well aware of the risks associated with any individual drug. In filings, the company said, "We are substantially dependent on the success of Eylea." It cited competition from other pharmaceuticals among risk factors specific to Eylea.
Investor tears over the Eylea miss caused Regeneron to be among the biggest decliners within the S&P 500 healthcare sector on May 4.
Dupixent Sales Growing
Worldwide sales of Dupixent grew 37% in the quarter, to $1.898 billion. The fastest grower was skin-cancer treatment Libtayo, which was up 46% year-over-year. However, Libtayo sales constitute a relatively small portion of Regeneron's overall sales.
Praluent, a cholesterol medication, grew by 31%, but it constituted only about 1.27% of total revenue in the quarter. 
In addition to the potential FDA approval for longer-lasting Eylea, Regeneron may have more good news on the horizon. In March, Regeneron and Sanofi (NASDAQ: SNY) announced good results from Phase 3 clinical trials for Dupixent's use to treat severe flare-ups of chronic obstructive pulmonary disease (COPD).
However, commercialization of that application for Dupixent won't happen immediately; analysts see Regeneron's full-year earnings declining by 7%, before rebounding to growth again in 2024. 
Several analysts boosted their ratings on Regeneron shortly after the Dupixent news broke in late March.    
A Series Of Small Breakouts
Regeneron's chart shows the stock breaking out of a series of consolidations without rising 20% before pulling back again. That up-and-down pattern has been very common in the choppy markets of 2023, but through it all, Regeneron has managed a gain of 11.32% year-to-date. 
That's better than the broad health care sector, as tracked by the Health Care Select Sector SPDR Fund (NYSEARCA: XLV), which is down 1.38% this year. That decline is due largely to drops in the sector's two biggest components, UnitedHealth Group Inc. (NYSE: UNH) and Johnson & Johnson (NYSE: JNJ).
Regeneron stock has a weighting of a little over 0.25% within the S&P 500. It's currently the 91st-weighted stock, which means it's inevitably held by a vast number of institutions. 
Regeneron institutional ownership data show a total of 789 institutional buyers accounting for $7.73 billion in inflows in the past 12 months, while 602 institutional sellers accounted for $4.93 billion in outflows. 
Putting Money Back Into Growth
While many well-established pharmaceutical companies pay shareholders a percentage of profits in the form of dividends, Regeneron is not in that category. In fact, the company says, "We have never paid cash dividends on our Common Stock or Class A Stock and do not anticipate paying any in the foreseeable future." 
When you see that, go back and look at the company's research and development spending, to verify that it is, indeed, putting money back into growth. In this case, the Regeneron first-quarter earnings statement bears that out: The company spent $1.101 billion on R&D in the quarter, up 28% from a year ago. 
Regeneron analyst ratings show a consensus of "moderate buy," although that does not include changes made after the first-quarter report. Analysts have a price target of $850.79, an upside of 12.86%.