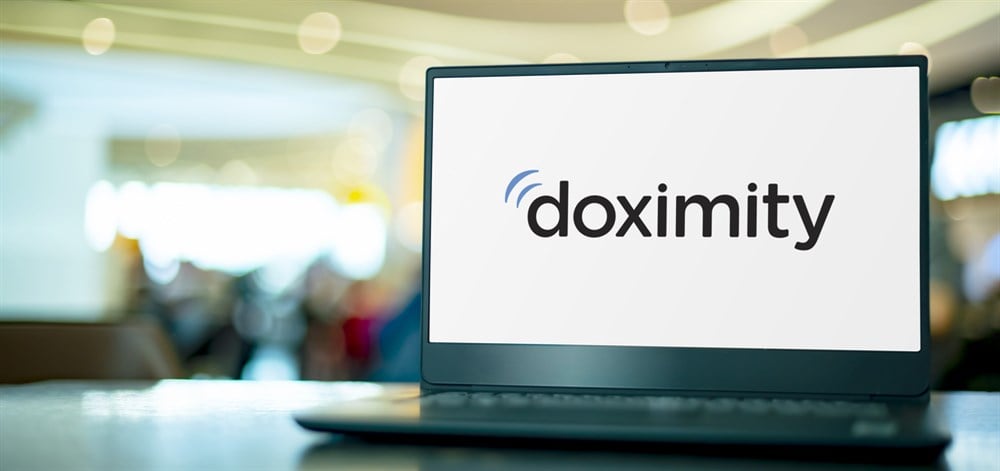 Doximity Inc. (NASDAQ: DOCS) is a digital professional social network platform for medical practitioners. It's a medical community networking platform like a Microsoft Co. (NASDAQ: MSFT) owned LinkedIn that enables doctors to communicate, interact and share information.
It's the world's largest medical network platform, with over 1.3 million members covering over 190 countries, 35 specialties, 9,000 hospitals, and 160 medical schools in all 50 states. It has become an essential resource for physicians to stay aware of the latest medical developments and research. It lets healthcare providers perform virtual office visits with patients that can't make it into the office, similar to Teladoc Health Inc. (NASDAQ: TDOC).
AI Integration
Doximity has even integrated its artificial intelligence-powered medical writing site DocsGPT.com which can write, translate and transcribe letters, prescriptions, and referrals and fax them directly to insurers. It's an entirely free medical office on the go in an app, making it an irresistible draw for doctors. While the company is profitable, shares took a tumble on its downside guidance.
Clients' ROI
The platform is free for licensed physicians as it collects revenues from advertisers, including the top 20 pharmaceutical companies and top 20 hospitals. Notable pharmaceutical clients include Pfizer Inc. (NYSE: PFE), Merck & Co. Inc. (NYSE: MRK) and Bristol-Myers Squibb Co. (NYSE: BMY). It also enables doctors to share documents, records, news, research, coordinate treatments, and perform telemedicine. It makes health doctors more productive and helps them manage their careers. Doximity measures clients' return on investment (ROI) utilizing third-party claims and prescription data. Its median client has a 10:1 return or better. This helps them guide their pricing.
Growth Continues
On May 16, 2022, Doximity released its fiscal fourth-quarter 2023 results for the quarter ending March 2023. The company reported earnings-per-share (EPS) of $0.20, excluding non-recurring items, versus consensus analyst estimates of $0.17, beating estimates by $0.03. GAAP net income was $30.7 million with a 27.6% margin, and non-GAAP income was $42.1 million with a 38% margin. Revenues rose 18.5% year-over-year (YOY) to $110.97 million, beating analyst estimates of $110.09 million. Operating cash flow was $46.6 million, and free cash flow was $45.6 million.
CEO Insights
Doximity CEO Jeff Tangney commented, "With the public health emergency officially over, we're proud to emerge with a record number of providers using our physician cloud in Q4 to power their scheduling, fax, e-signature, and telehealth needs. Our telehealth tools alone were used by a record 300,000 unique providers. " He stated that usage hit fresh highs in the last quarter with a record number of quarterly active users. The platform integrated the nation's third largest electronic health record (EHR) MEDITECH. Its enterprise products enable hospital medical providers to streamline their workflows to spend more time with patients. Together with Epic and Cerner, they comprise 85% of the hospital market.
Digitization of Legacy Workloads
Doximity is digitizing paper-based and legacy workloads for doctors. Its new DocsGPT.com is an AI medical writing site that enables doctors to draft and fax approvals. The company helps doctors reduce almost half the day they spend on paperwork. CEO Tangney summed it up, "By connecting doctors in their daily work from finding which cardiologist is on call to viewing their profile to calling or messaging them, we believe we become the physician cloud, a workflow and communications hub whose usage is more analogous to a Bloomberg than a LinkedIn."
Downside Guidance
Doximity lowered its fiscal Q1 2024 revenue guidance between $106.5 million to $107.5 million versus $111.78 million consensus analyst estimates. Adjusted EBITDA is expected between $39 million to $40 million. The company expects fiscal full-year 2024 revenues between $500 million to $506 million versus $501.83 million consensus analyst estimates. Adjusted EBITDA is expected between $216 million to $222 million. Doximity analyst ratings
Doximity analyst ratings and price targets can be found at MarketBeat.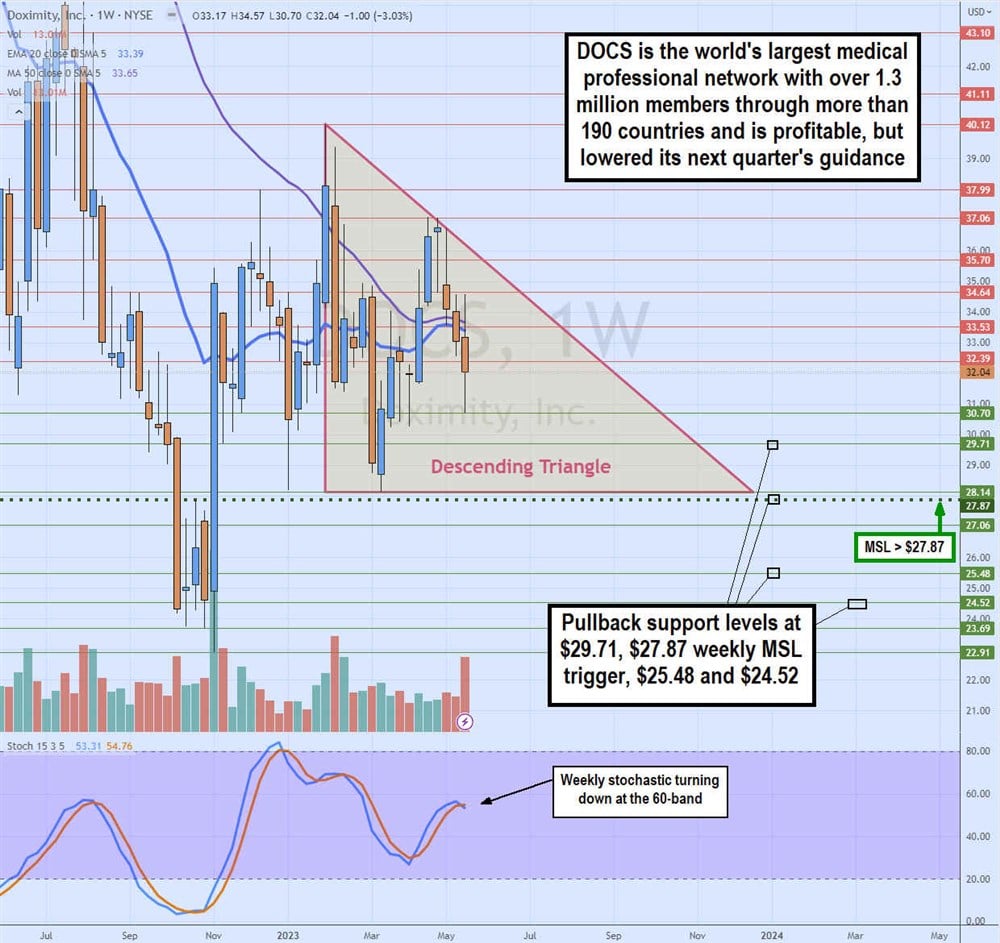 Weekly Descending Triangle
The weekly candlestick chart on DOCS has formed a descending triangle of a flat bottom at $28.14 with lower highs. The triangle started to form after peaking at $40.12 in January 2023 and falling to a double-bottom support level at $28.14 in March 2023. Shares rebounded to retest a lower high at $37.06 and then collapsed on the lowered guidance following its fiscal Q4 2023 earnings report. The weekly stochastic looks to be peaking just under the 60 band. Shares fell under the weekly 50-period moving average (MA) at $33.65 and weekly 20-period EMA at $33.39 to form a bearish inverse pup breakdown if the stochastic crosses back down. Pullback supports are at $29.71, $27.87 weekly MSL trigger, $25.48 and $24.52.