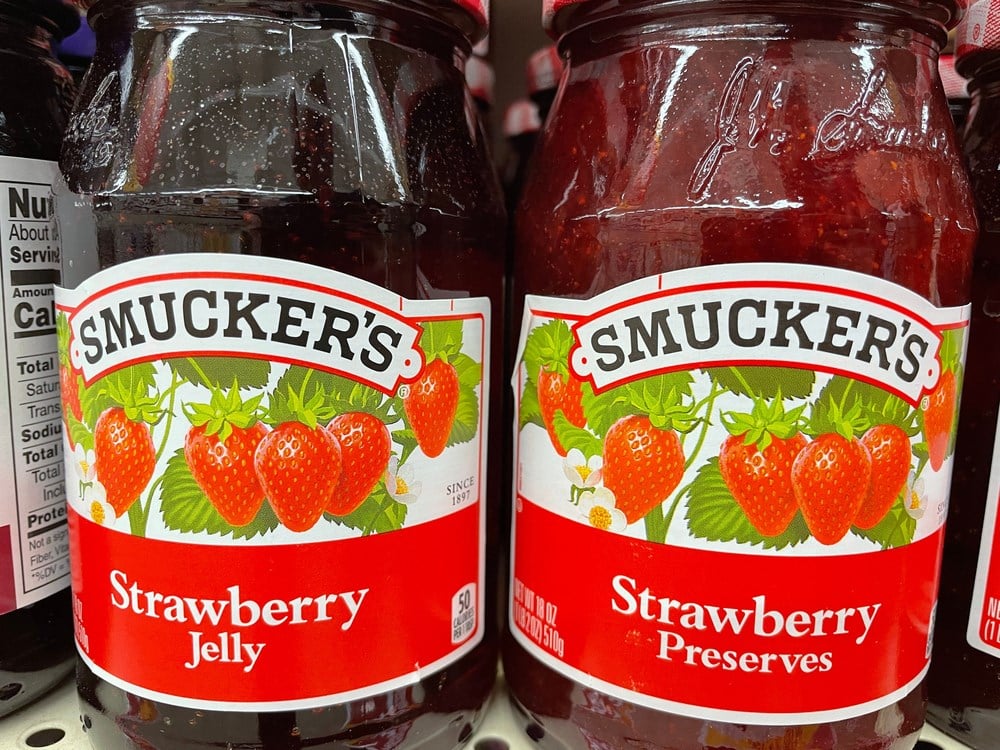 For The J.M. Smucker Co. (NYSE: SJM), steady growth and dividends go together like, well, peanut butter and jelly.
Backed by iconic brands like Jif and Smucker's, the company has been a pillar of reliable financial growth since it went public in 1959. In the last decade, it has increased its cash dividend at a 7% annualized rate. For investors, this makes the stock an appetizing long-term position — and the timing looks sweeter.
In a recent Bloomberg survey, economists upped the odds of a U.S. recession to 65%, citing higher rates and banking turmoil. Earlier this year, The Conference Board's probability model set the odds at 99%. Sounds like a good time to bunker down with defensive staples stocks.
The packaged foods industry is as defensive as it gets because people need to eat regardless of the economic environment. This could mean another year of outperformance for companies like Campbell Soup, General Mills and yes, J.M. Smucker.
After advancing 17% in 2022, J.M. Smucker shares have produced a 7% annualized return over the last five years compared to a 4% industry average. Technology stocks are leading this year's rally, but it may be too soon to turn the page on the defensive staples playbook.
What Are J.M. Smucker's Growth Drivers?
J.M. Smucker is still benefiting from at-home consumption trends. With hybrid work schedules now the norm, Americans are still spending a lot of time at home. Stocking up on food and beverages that will last the work week is a must. The only problem is that a trip to the grocery store is more expensive than it was during the pandemic.
Recent results show that despite inflation pressures, shoppers are still stuffing their carts with J.M. Smucker products. Sales went up year-over-year in each of the last three quarters and are on pace to grow 6% in fiscal 2023. Cost increases are effectively passing on to consumers. But it's not all about PB&J.
Although known for its jams and sundae toppings, J.M. Smucker is mostly a coffee shop. Led by Folgers, coffee accounts for the largest percentage of projected fiscal 2023 sales at almost 50%. With consumers brewing more pots at home these days, coffee naturally remains a key growth focus. Along with Dunkin' and top Latin brand Cafe Bustelo, management plans to build off its leading at-home coffee share by expanding distribution.
Another key growth product is Uncrustables, convenient (crust-free) sandwiches and snacks for on-the-go families. Brand sales have grown at a 15% rate over the last 10 years. A broadening lineup of frozen and non-frozen Uncrustables stands to further feed growth.
And we can't forget about pets. J.M. Smucker is getting out of the dog food business but doubling down on dog snacks, a category in which it is 'top dog.' A shift into higher margin dog snacks like Milk Bone and Pup-Peroni bodes well for profit growth while investing in Meow Mix should bolster its #2 cat food ranking. Last, the humanization of pets and the popularity of seasonal pet treats are expected to be growth 'tail-winds.' 

What Is J.M. Smucker's Outlook?
Management's long-term guidance calls for low single-digit sales growth and high single-digit adjusted earnings growth. If achieved, this would be a winning combination from an investor's perspective because it means the company is squeezing the most out of modest top-line growth. 
J.M. Smucker is also targeting annual shareholder returns of at least 10%, a significant part of which will be the dividend. A $4.08 per share dividend gives the stock a 2.6% forward yield that's above the 1.9% sector average. And with management also targeting a conservative 40% to 45% dividend payout ratio, dividend stability is high. It means more dividend increases are likely ahead, which would build off the company's 21-year dividend hike streak. 
At the midpoint of fiscal 2023 guidance, J.M. Smucker is trading around 18.5x earnings, which may seem pricey for a defensive name. But the shift to faster-growing dog treats and growth opportunities in coffee and foods make it reasonable if not cheap (ironically, Blue Buffalo pet food owner General Mills, which may have inferior growth prospects, trades at 18.5x trailing earnings).
With J.M. Smucker up roughly 10% from its 2023 low, a better entry point could probably be had. If the stock dips below $140, though, and the yield climbs above 3%, income investors may start getting hungry.