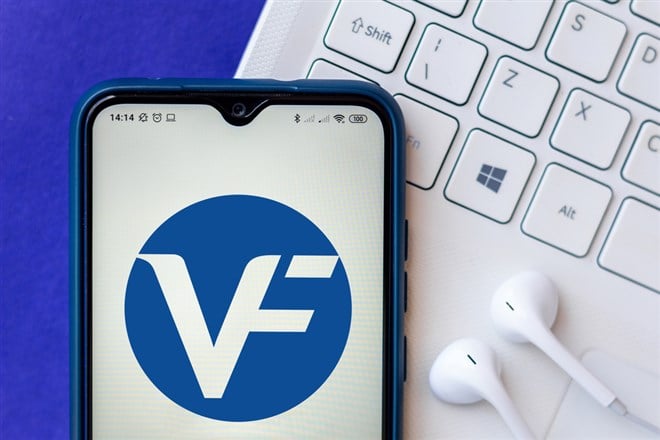 Outerwear apparel maker V.F. Corporation (NYSE: VFC) stock has languished in a weekly falling price channel since August 2022. The maker of popular outdoor apparel brands, including Vans, The North Face, Timberland, JanSport, and Dickies lowered guidance again on Dec. 5, 2022, after lowering guidance on its fiscal Q2 2023 earnings report on Oct. 26, 2022. After a record-breaking re-opening demand shock in 2021, retailers had tough comps in 2022 as normalization kicked in.
To make matters worse, V.F. Corp investors were completely surprised by the abrupt retirement of its CEO and lower lowered guidance for its fiscal full-year 2023 EPS. A strong U.S. dollar, inventory overload, and the slowdown in China have been headwinds for the Company that was further exacerbated by the CEO jumping ship. Shares finally bottomed out at $25.05 all-time lows on Dec. 19, 2022, before staging a rally into the new year.
Lagging Its Peers in Outer Wear Apparel
The Company competes with outerwear apparel companies Canada Goose Holdings Inc. (NYSE: GOOS), Columbia Sportswear Company (NASDAQ: COLM), and Deckers Outdoors Co. (NASDAQ: DECK). It's the laggard of the bunch as it's just coming off its 52-week and all-time lows at the end of December 2022.
This could be a good thing for potential investors willing to take a risk using the near 7% annual dividend as a bumper against further downside. Unlike its peers, the MarketBeat MarketRank™ Forecast indicates insider buying of $775,000 of stock in the last quarter and a 39% upside price target of $41.05.
In-Line Earnings report
On October 26, 2022, V.F. Corp released its fiscal second-quarter 2023 results for September 2023. The Company reported non-GAAP earnings-per-share (EPS) of $0.73, excluding non-recurring items, versus consensus analyst estimates for a profit of $0.73. Revenues fell (-3.7%) year-over-year (YoY) to $3.08 billion or up 2% in constant currency and missing consensus analyst estimates for $3.10 billion.
Vans sales fell (-13%) YoY to $1 billion, while The North Face sales rose 8% to $1 billion or 14% in constant currency. Gross margins fell (-230 bps) at 51.4%. Operating margin fell (-2,040 bps) to (-2.9%). EPS loss was (-$0.31) down (-126%), while adjusted EPS was $0.73, down (-34%).
Lowering the Bar
The Company sees fiscal full-year 2023 EPS between $2.40 to $2.50 versus $2.60 consensus analyst estimates. It expects revenues to rise 5% to 6% in constant dollars, which is unchanged from earlier guidance. Adjusted gross margins fell 100 bps to 150 bps compared to earlier guidance of down (-50 bps).
Cut Bait and Switch CEO
On Oct. 26, 2022, V.F. Corp CEO Steve Rendle commented on its fiscal Q2 2023 earnings results, "VF's balanced performance in Q2 demonstrates the resiliency of our brand portfolio against a more disrupted global marketplace. Our purpose-built portfolio of iconic, deeply-loved brands continues to benefit from tailwinds in the outdoor, active, streetwear and workwear spaces while we also actively address the near-term challenges at Vans, the ongoing COVID-related disruption in China, and the broader macro-economic and geopolitical headwinds, which have created tremendous uncertainty for all businesses and consumers."  
Game of EPS Limbo
On Dec. 5, 2022, CEO Rendle announced his abrupt and unexpected retirement. Like a game of limbo, he offered even lower guidance as a parting gift to shareholders. Fiscal full-year 2023 adjusted EPS is expected to come in even lower, between $2.00 to $2.20, down from its lowered guidance between $2.40 to $2.50 just two months ago. Weaker-than-expected consumer demand in North America led to more promotions and wholesale channel cancellations.
China Re-Opening
Two days later, on Dec. 7, 2022, China announced the easing of its COVID restrictions after many protests and three years of lockdowns. This unexpected re-opening was not factored into VF Corp's guidance and could be a game changer depending on the timing of the complete re-opening. The company is searching for a new permanent CEO, and the right choice could quickly lift its shares and sentiment.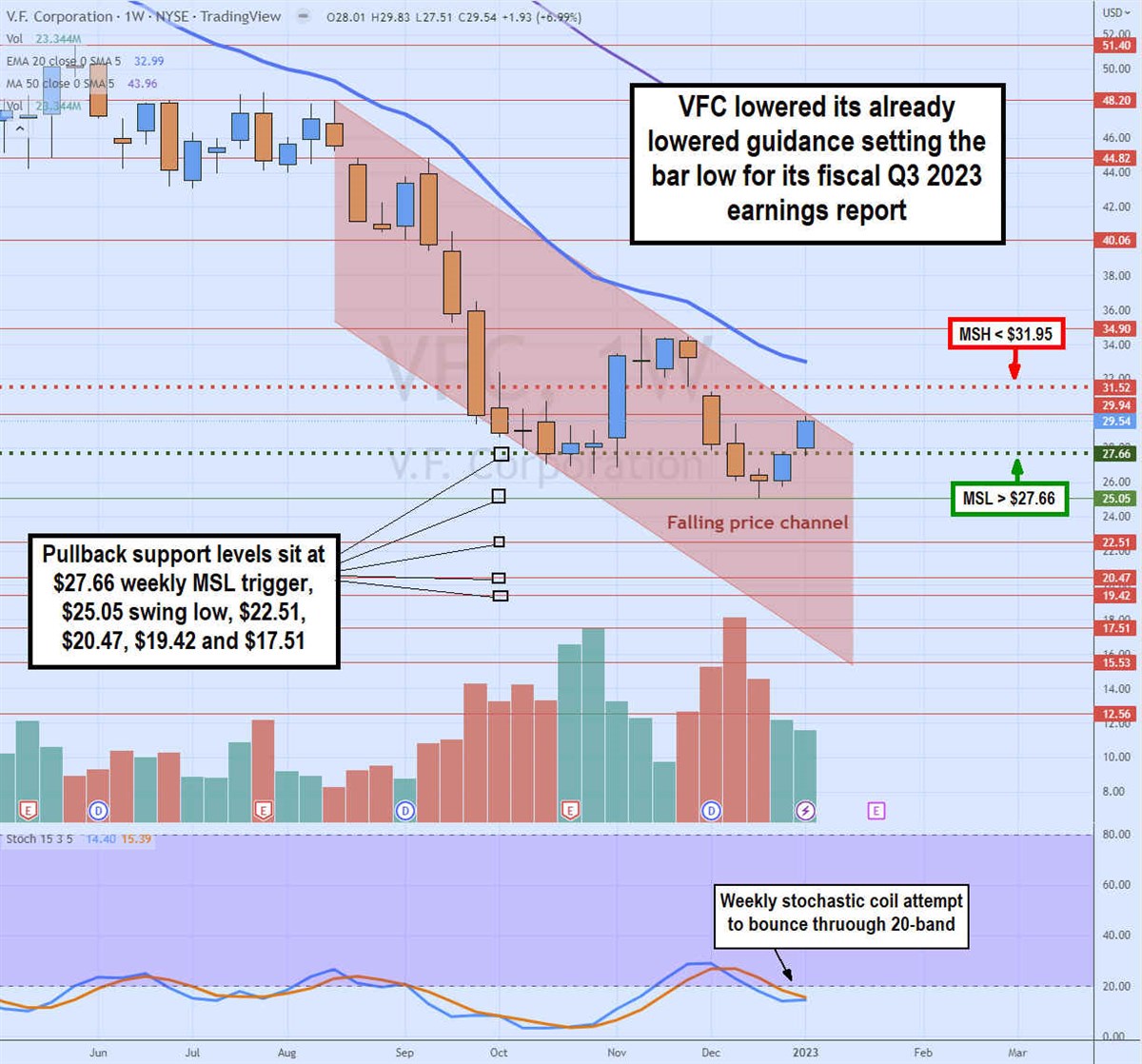 Breaking Out of the Weekly Falling Price Channel
VFC stock has been in a falling price channel since July 2022, peaking at $48.20 before selling off to all-time lows of $25.05 on Dec. 22, 2022. It formed a weekly market structure low (MSL) buy trigger at $27.66 as it bounced towards the weekly market structure high (MSH) sell trigger at $31.52.
The weekly 20-period exponential moving average (EMA) resistance still falls at $32.99, followed by the weekly 15-period MA at $43.96. The weekly stochastic fall under the 20-band stalled as it contemplates crossing back up through the oversold 20-band. The pullback support levels sit at the $27.66 weekly MSL trigger, $25.05 swing and all-time low, $22.51, $20.47, $19.42, and $17.51.