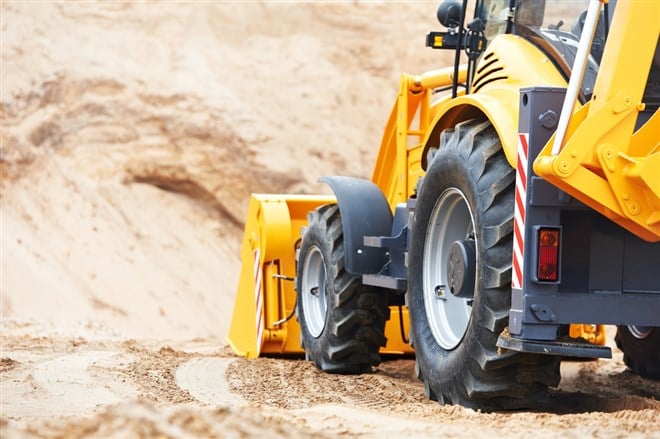 After a down year for U.S. equities, investment portfolios have some ground to cover. Time to bring in the heavy machinery.
Companies that make farm and heavy construction machinery fared quite well in 2022. The group finished roughly 8%, while the S&P 500 declined 19%. 
The good news for investors is that several factors that drove the outperformance remain in place heading into 2023. 
Commodity prices are trending higher. Infrastructure projects are starting to ramp. Combined with moderating cost inflation and supply chain issues, industry profits are forecast to rise. 
During his visit to Kentucky last week, President Biden announced that more than $2 billion from the Bipartisan Infrastructure Law would upgrade some of the country's most economically vital bridges. This will kick off what promises to be a busy year of infrastructure spending implementation and possibly a multiyear run of growth for heavy machinery makers. 
These three stocks have significant earnings horsepower in the new year and beyond.
Is Deere Stock Still Undervalued? 
In a few weeks, Deere & Company (NYSE: DE) will wrap up the first quarter of its new fiscal year. The company is expected to have benefitted from elevated commodity prices incentivizing farmers to expand production and upgrade equipment. 
While the stock's movements are often linked to agriculture trends, Deere's Construction & Forestry could be an underappreciated growth catalyst. Last quarter, sales in the division increased by 20% thanks to higher pricing and volumes.
For fiscal 2023, management forecasts North American construction volumes to be up as much as 5%. This estimate could prove conservative given an anticipated ramp in road building, bridge construction and water infrastructure activity.
Wall Street's forecast for Deere's full-year earnings per share (EPS) growth is 6% — and may also be conservative. The management team is known for its cost control abilities, evidenced by EPS beats in 12 of the last 13 quarters. The stock has tripled during that period, but 15x FY23 earnings remains an inexpensive way to play both agriculture and infrastructure growth.
Does Caterpillar Stock Have More Upside?
Caterpillar Inc. (NYSE: CAT) is one of the Dow-30's hottest stocks. The manufacturer of construction, mining and industrial equipment finished last year on a 50% run and is up another 4% year-to-date. Even though it just eclipsed its previous all-time high, investors need not shy away.
Sell-side estimates for Caterpillar's 2023 EPS imply 9% growth. This is on top of the anticipated 34% profit growth in 2022. While most industries are bracing for demand slowdowns, Caterpillar isn't expecting such a crawl. 
Bottom-line growth is expected to come from two pillars: 1) a rise in domestic and overseas construction activity that continues to rebound from a pandemic freeze, and 2) demand for lithium and other commodities tied to the global clean energy transition should boost demand for Caterpillar's mining equipment.
Management's recent 8% dividend hike told the market that the outlook for the business is strong despite the potential for a recession. The Dividend Aristocrat looks poised for a fifth year of stock gains due to solid end-market demand and effective cost-cutting measures. Trading well below its five-year average P/E (18x vs. 26x), look for Caterpillar to spread its wings again in 2023.
Is PACCAR Stock a Good Investment?
PACCAR Inc (NASDAQ: PCAR) is a different type of industrial play. As a manufacturer of commercial trucks under the DAF, Kenworth and Peterbilt names, the company is experiencing a strong demand pickup thanks to higher freight volumes and industrial activity. So much so that Paccar ran out of vehicles available for sale in 2022! 
With new order trends strong and production increasing, the outlook for this year is bullish. Higher truck deliveries to customers in the U.S., Canada and Europe are expected to be the main force, but it's about more than just sales volumes. 
Since Paccar is known for its quality, comfort and reliability, it can charge premium prices that help offset increased manufacturing costs. And with an increasing number of trucks on the highways, demand for the company's aftermarket parts should continue to climb. Approximately 20% of overall revenue comes from the aftermarket business.
Another exciting growth area for the company is autonomous driving technology. A partnership with autonomous driving specialist Aurora will soon bring enhanced safety and efficiency features to the Peterbilt 579 and Kenworth T680 models. The upgrade should also help Paccar maintain its premium image and prices. 
Instead of watching the classic film "Planes, Trains and Automobiles," investors may want to tune into 'tractors, bulldozers and trucks.' Machinery stocks that outperformed last year have the secular tailwinds to keep plowing ahead.