MELBOURNE, Australia, July 28, 2023 (GLOBE NEWSWIRE) -- Genetic Technologies Limited (NASDAQ:GENE, "Company", "GTG"), a global leader in guideline-driven genomics-based testing in health, wellness and serious diseases, is pleased to provide this Quarterly Business Update for the quarter ending 30 June 2023.
Highlights:
June Quarter FY23 receipts were A$2.1 million.
Receipts from customers was A$8.8 million for the 12 months to 30 June 2023, up 29% on the prior corresponding period.
GeneType Multi-risk test gaining traction with 250% growth in commercial samples received compared with the prior quarter off a low initial base.
20 Medical practices in the U.S. and Australia now repeatedly referring samples for geneType testing – adding new practices incrementally every week.
Launched a National Television campaign in the U.S. driving engagement with consumers.
Presented a poster at The American Society of Clinical Oncologists (ASCO) in Chicago in May.
Attended the annual Biotechnology Innovation Organisation (BIO) conference in Boston to establish global partnership foundation pathways.
Publications validating the use of geneType; identifying those at elevated risk of developing Melanoma, Pancreatic and Prostate Cancer.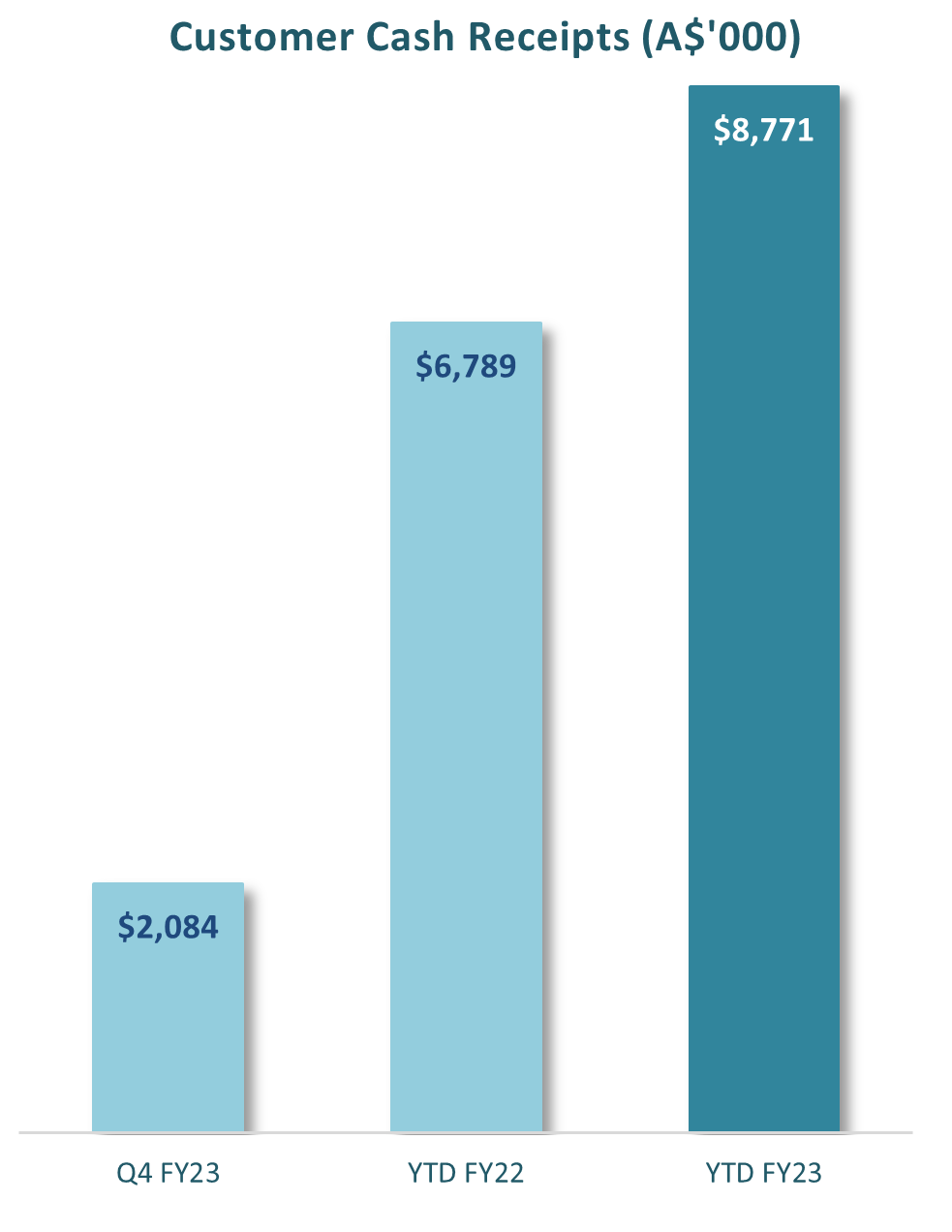 Commenting on the Company's quarterly performance, Chief Executive Officer Simon Morriss said: "The June 2023 quarter provided some significant highlights. Growth in the commercial traction of the company's geneType brand was experienced in both Australia and the U.S. This is being driven by a strengthened focus on sales and support, via our newly appointed Medical Science Liaison (MSL) team and our dedicated technical and customer support teams in the U.S. and Australia.
"Our science team continues to deliver, growing the geneType platform with peer reviewed publications accepted for three of the recently included diseases on the geneType platform. Studies have again validated the utility of the melanoma, prostate and pancreatic cancer tests, continuing to highlight the strong scientific "DNA" that provides a clinical foundation for geneType."
Key Achievements During the Quarter
GeneType Commercial Progress Update
Adoption of geneType continues to grow strongly in both Australia and the U.S., with a significant increase in the number of commercial samples processed through the company's NATA accredited, CLIA Certified Melbourne facility. GTG's teams in Australia and the U.S. are adding 2-3 new referring practices every week, providing a solid foundation for the continued commercial sales growth of geneType.
In the U.S., the company is progressing discussions to initiate a pilot study to determine the clinical utility of the geneType Breast Cancer Risk Assessment Test with a mid-west based employer group. Demonstrating clinical utility through this employer group will provide strong support for the use of geneType with members of the employer group. Success with this initiative should encourage other employer groups and U.S. insurers, to recommend and use the geneType test as a valuable and life saving screening test.
Early detection saves lives, as well as reducing the significant cost of treating serious disease, including cancer.
Peer-reviewed Studies Validating GeneType for Melanoma, Pancreatic and Prostate Cancers Risk Assessment
GeneType for Pancreatic Cancer Risk Assessment showed a nearly 50% improvement in identifying individuals with a high risk of developing pancreatic cancer and, when paired with existing or emerging pancreatic screening techniques, will lead to clinically significant earlier diagnosis of pancreatic cancer. Identifying "at-risk individuals" early, when surgical intervention is still possible, will lead to significantly improved patient outcomes1 2.
Chief Executive Officer, Simon Morriss, said: "Pancreatic Cancer is a deadly disease, 65,000 people will be diagnosed with pancreatic in the U.S. this year and 50,000 people will die3. This devastating statistic is driven by late diagnosis of this cancer. Implementing geneType risk assessment test for pancreatic cancer will help doctors diagnose the disease and intervene earlier, reducing this appalling mortality. This test really can make a difference in improving patient outcomes."
The Prostate Cancer study, involving a prospective cohort of almost 200,000 men from the UK Biobank, demonstrated that the geneType Prostate Cancer Risk Assessment Test offered a significant improvement in risk assessment when compared with age and family history in assessing a man's risk of developing prostate cancer. The study concluded that family history alone had a 23% underestimation of risk. Importantly, geneType was also able to identify men at very low risk of developing prostate cancer.
The Melanoma study used participant samples from the UK Biobank to develop a new Polygenic Risk Score (PRS) for melanoma comprising 68 single nucleotide polymorphisms (SNPs). The study identified the top 20% of people who were at 2.3 times increased risk of Melanoma compared to the population average, by combining the PRS and a clinical risk score to predict 10-year risk of Melanoma.
Commenting on the results of these studies, Dr Erika Spaeth, GTG's Director of Clinical & Medical Affairs, stated, "Risk awareness can inform decision making between clinicians and their patients enabling them to discuss the benefits of screening and ultimately lead to early diagnosis of these serious diseases."
Financial and Cashflow Overview
At the end of June 2023, GTG had A$7.9 million in cash and cash equivalents. Cash receipts from customers for the financial year were A$8.8 million with the refund of the R & D Tax Incentive for the 2022 financial year contributing $2.0 million and interest receipts adding $0.2m. Cash outflow used from operating activities was A$9.9 million for the financial year. The Company received a net $6.3m from the issue of equity early in the calendar year.
Authorised for release by the Board of Genetic Technologies Limited
Enquiries
Investor Relations
Adrian Mulcahy
Automic Markets
M: +61 438 630 411
E: Adrian.mulcahy@automicgroup.com.au
About Genetic Technologies Limited
Genetic Technologies Limited (ASX: GTG; Nasdaq: GENE) is a diversified molecular diagnostics company. A global leader in genomics-based tests in health, wellness and serious disease through its geneType and EasyDNA brands. GTG offers cancer predictive testing and assessment tools to help physicians to improve health outcomes for people around the world. The company has a proprietary risk stratification platform that has been developed over the past decade and integrates clinical and genetic risk to deliver actionable outcomes to physicians and individuals. Leading the world in risk prediction in oncology, cardiovascular and metabolic diseases, Genetic Technologies continues to develop risk assessment products. For more information, please visit www.genetype.com
Forward Looking Statements
This announcement may contain forward-looking statements about the Company's expectations, beliefs or intentions regarding, among other things, statements regarding the expected use of proceeds. In addition, from time to time, the Company or its representatives have made or may make forward-looking statements, orally or in writing. Forward-looking statements can be identified by the use of forward-looking words such as "believe," "expect," "intend," "plan," "may," "should" or "anticipate" or their negatives or other variations of these words or other comparable words or by the fact that these statements do not relate strictly to historical or current matters. These forward-looking statements may be included in, but are not limited to, various filings made by the Company with the U.S. Securities and Exchange Commission, press releases or oral statements made by or with the approval of one of the Company's authorized executive officers. Forward-looking statements relate to anticipated or expected events, activities, trends or results as of the date they are made. As forward-looking statements relate to matters that have not yet occurred, these statements are inherently subject to risks and uncertainties that could cause the Company's actual results to differ materially from any future results expressed or implied by the forward-looking statements. Many factors could cause the Company's actual activities or results to differ materially from the activities and results anticipated in such forward-looking statements as detailed in the Company's filings with the Securities and Exchange Commission and in its periodic filings with the ASX in Australia and the risks and risk factors included therein. In addition, the Company operates in an industry sector where securities values are highly volatile and may be influenced by economic and other factors beyond its control. The Company does not undertake any obligation to publicly update these forward-looking statements, whether as a result of new information, future events or otherwise, except as required by law.
___________________________________
1 Canto MI, Almario JA, Schulick RD, et al. Risk of neoplastic progression in individuals at high risk for pancreatic cancer undergoing long-term surveillance. Gastroenterology. 2018; 155(3): 740-751 e742. doi:10.1053/j.gastro.2018.05.035
2 Vasen H, Ibrahim I, Ponce CG, et al. Benefit of surveillance for pancreatic cancer in high-risk individuals: outcome of long-term prospective follow-up studies from three European expert centers. J Clin Oncol. 2016; 34(17): 2010-2019. doi:10.1200/JCO.2015.64.0730
3 https://www.cancer.org/cancer/types/pancreatic-cancer/about/key-statistics.html
A chart accompanying this announcement is available at https://www.globenewswire.com/NewsRoom/AttachmentNg/e9d97ba9-f4d6-4fa9-9129-b17d406ede35