The newest chalk and paper blackboard set from HAGOROMO encourages kids to learn, study, and express themselves creatively while having fun. For parents looking for a fun and engaging way to teach their children and aid in their learning more quickly, this set of Chalk and Paper Blackboard is for you. For these innovative solutions, the HAGOROMO's Chalk & Paper Blackboard Set is the perfect item!
This product package comes with everything parents require to teach their children in a new, creative approach. Children can learn and create to their heart's delight with a selection of colored chalk. This does not imply that the product can only be used for one purpose, though. This set can be used in a variety of ways, including as a sign for a café or restaurant or just as a board to list tasks and do errands. The possibilities are unlimited when using the HAGOROMO Chalk and Paper Blackboard Set!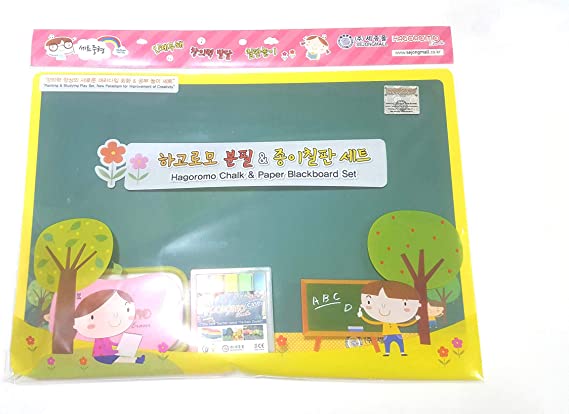 This product is portable and easy to carry around because the paper chalkboard is thin but still has the same appearance and feel as a classic blackboard.
The offered chalk is covered with a barrier so that when it is used, the powder won't stain hands. The item is ideal for keeping kids' artistic endeavors from becoming dirty. The blackboard's ease of erasability makes for countless creative possibilities.
The microfiber magnetic eraser may be attached to any blackboard; it is not exclusive to the blackboard from HAGOROMO. Its cushion, which was ergonomically built, makes it durable and simple to handle. The functionality and longevity of the product are unaffected by removing the microfiber erasing pad from the handle and washing it in the washer with water and soap. Use this durable eraser as frequently as you can. The microfiber pad effectively removes chalk or marker with no mess left behind.
This product set is non-toxic and suitable for children because it is made from premium natural calcium carbonate. KC & CE certifications are available for HAGOROMO chalk and board markers. This indicates that they also value children's safety above everything else while they are studying.
Get the Chalk & Paper Blackboard Set from HAGOROMO right away and let your kids use their ideas and ingenuity.
Visit the Amazon Product Link for purchase or other information.
Media Contact
Company Name: HAGOROMO
Contact Person: Andy Hong
Email: Send Email
Country: South Korea
Website: https://www.amazon.com/dp/B074PKWB4Z