All types of boards, including plaster, carbon chalkboards, liquid chalk blackboards, and whiteboards, can be erased with this dry-erase marker.
The Microfiber Magnetic Dry Eraser from HAGOROMO is the company's newest invention. It is a washable eraser that effortlessly removes all whiteboard and blackboard markers as well as chalkboard chalk, leaving no traces or messes behind.
This reusable, washable eraser can erase all varieties of boards, including plaster, carbon chalkboards, liquid chalk blackboards, and whiteboards. The erasing pad can be easily cleaned by tossing it in the laundry or washing machine as necessary. Even after hefty or prolonged hot water washing, the quality remains unchanged. Thanks to its extraordinary toughness. Use this durable eraser as frequently as you can!
The magnetic feature of the eraser further distinguishes it. Through an incorporated magnet, it may be attached to any type of magnetic chalkboard or whiteboard. Due to the incorporated magnet, this premium quality eraser adheres precisely tightly to magnetic whiteboards or blackboards, making it incredibly comfortable to use. The majority of erasers on the market lack this particular feature. The All-board Eraser compensates for the shortcomings of regular erasers.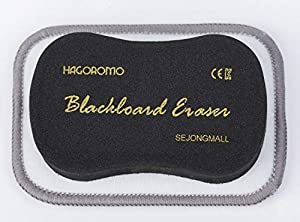 "Due to its universality, our novel eraser is favored by many people. It can be used with any kind of blackboard, including glass, plaster, carbon chalk, water chalk, aqua chalk, and even whiteboards. Use it wherever you choose, including at home, at work, and in the classroom. You won't be dissatisfied with the quality," said the company's representative.
The ergonomically designed handle of the HAGOROMO Eraser makes it convenient to hold and erase nicely due to the handle's curved design. Because it is constructed with the best EVA quality, the eraser provides a nice cushion with excellent endurance. The eraser has a design patent and is authorized by the Korean Intellectual Property Office.
Furthermore, the Velcro attachment securely fastened the handle and the microfiber pad. The user's shoes or clothing won't get covered with chalk dust or powder, and the eraser pad won't fall or separate while in use.
Visit the Amazon Product Link for more details about this ground-breaking Microfiber Magnetic Dry Eraser or to order one.
Media Contact
Company Name: HAGOROMO
Contact Person: Andy Hong
Email: Send Email
Country: South Korea
Website: https://www.amazon.com/dp/B08N4QN5W6