With Stocks on Brink of Bear Market, Is It Time to Buy?
January 02, 2019 at 10:00 AM EST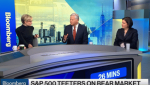 "Peter Borish, Quad Capital chief strategist, Lale Topcuoglu, senior fund manager and head of credit at JOHCM, and Christopher Zook, CAZ Investments CIO, debate whether or not if now is the time to buy stocks. They appear on Bloomberg Markets: The Open.'" For more investment trends,...