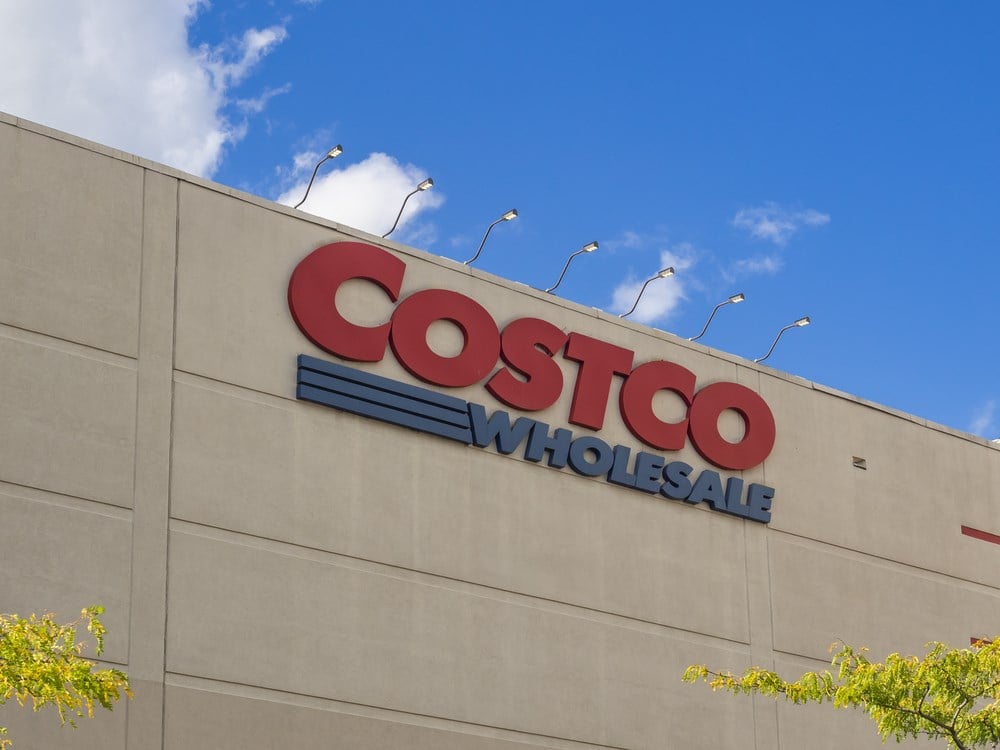 Some investors are blessed with the opportunity to participate in the growth and development of a business that genuinely carries the 'recession-proof' badge of honor. Unfortunately, recession concerns have recently increased the fear gauge in markets, with many beginning to withdraw from equities and look for alternative 'safer' investments like government bonds.
Despite Costco Wholesale (NASDAQ: COST) being one of those defensive businesses that can largely be considered 'recession-proof' and also being a Charlie Munger favorite, it has still felt the financial community's pressure to navigate these fears of the downturn as effectively as it can. 
Shares of Costco showed a neutral reaction after the company issued its press release in the after-market hours of Thursday evening, as the stock price reacted with a mere $0.30 increase. The headline table within the company's report may have turned some investors away from adding to their positions or even initiating new positions.
E-commerce sales posted a double-digit decline for the first quarter of 2023, while comparable net sales increased by 1.9% to severely underperform the inflation rate nationally. However, the future outlooks matter, as management pointed to some favorable developments within the earnings call, which may boost margins just enough to realize analyst targets.
Costco Building a Margin Boost
The COST stock chart will show a relatively simple truth in today's market, as it has outperformed other entrenched brand names in the sector over twelve months. Blowing past by as much as 18.4%, Costco has left Target (NYSE: TGT) and Kroger Company (NYSE: KR) behind, reflecting the operational and financial superiority assigned by market participants.
As Costco's analyst ratings suggest a 13% upside from today's prices, digesting the company's latest developments shown during the earnings release could catalyze a proper upgrade in targets. 
As operating margins took a hit lower, ending the quarter at 3.1% from a year prior's 3.4%, management points to a clear path that may act as a solution to these temporary trends. While merchandise costs, as a percentage of net revenue, decreased during the year from 88.1% to 87.9%, other line items are posing a nasty headwind to operating income capacity. As selling costs increase, management has clarified that the company will see a brighter and more profitable second half of 2023. 
During the earnings call, executives pointed out that these elevated operating costs were a byproduct of higher shipping and freight costs, which rose to their highest levels in 2022 as ZIM Integrated Shipping Services (NYSE: ZIM) enjoyed a record of average freight rate environment. ZIM's management and Costco expect these rates to come down to more normalized levels for the remainder of the year and significantly improve for 2024.
Costs were so high for Costco to ship its products that the company had to bring manners into its own hands by chartering its shipment routes in an attempt to sidestep the global shipping crisis the world had to watch unfold during 2022. Costs increased due to this initiative, which is expected to be dropped to reflect lower operating costs for the second quarter of 2023. 
Costco Stayin' Alive
While other retail operators like Best Buy (NYSE: BBY) reported their share of the painful side effects of a tightening global economy, where Best Buy reported a 10.1% decline in comparable sales and a subsequent contraction in operating and net margins, Costco seems to be working at head and shoulder level above its competitors. As the giant wholesaler that Costco is, the adverse macroeconomic effects that seem to affect every other company have not found their way into its moat.
Management has expanded the number of warehouses from August 2022, where its network was composed of 838 warehouses, according to the 10-k annual report filing. Today, Costco has expanded this network to a total of 853 warehouses worldwide, translating into a nearly 2% increase. 
Investing in the expansion will bring additional revenue through memberships and a more significant bottom line for investors. Costco's financials will reflect the company achieving an average ROIC (return on invested capital) of above 15%, meaning that any capital expenditures allocated toward opening new locations will generate a market-beating return for underlying shareholders.
As these ROIC rates compound over a more extended period, the theory goes that the annual stock price appreciation rate should match the same average long-term ROIC rates. Costco investors are in for a near bump-free double-digit return ride, allowing for increased free cash flows via cost reductions during the remainder of the year and increased sales from new locations. As Charlie Munger says, "I'll never sell Costco."