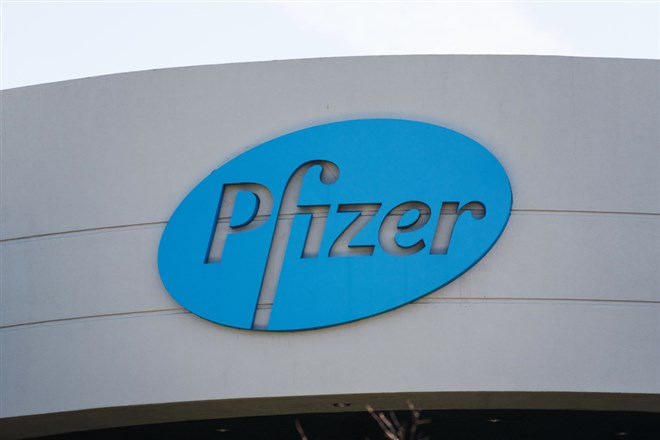 The pharmaceutical company Pfizer Inc. (NYSE: PFE) saw its shares become very popular after creating one of the top vaccines to fight COVID-19 back in the day. But as the pandemic has started to fade into the background, shares have also lost much of their buzz. They've recently dropped close to 20% and are almost back to pre-pandemic levels.
Despite this, we are eyeing some significant tailwinds that have the potential to get Pfizer back on its feet in the months ahead. Let's take a look at some of them.
COVID As A Catalyst
Starting just yesterday, a research paper revealed that global drug spending is expected to surpass $1.9 trillion by 2027. This represents a forecasted annual growth rate of 3-6%. The research notes how "the outlook for global medicine spending has shifted considerably during the COVID-19 pandemic."
It also adds how the pandemic's impact on non-COVID drug spending is expected to be offset over time as it reverts to the historical trend. Analytics firm Airfinity expects oncology, immunology, anti-diabetics, and cardiovascular areas to contribute to overall drug spending in 2027. Pfizer is well-positioned to capture much of this revenue. 
It is important to note that we're not out of the woods just yet when it comes to COVID-19, and this, in a way, might be a silver lining on a cloud for Pfizer. The Omicron subvariant XBB.1.5 continues to send the number of COVID-19 cases worldwide higher, and it's considered the most transmissible and dangerous yet.
For context, this variant represents about 20% of all COVID-19 infections reported today. In a recent statement, the White House COVID-19 Response Coordinator Ashish Jha said that Pfizer has some of the best antivirals for fighting this variant of the Omicron virus. 
In a recent interview with CNBC, Pfizer CEO Albert Bourlas spoke bullishly about the company's future, saying, "I thoroughly believe the best days are ahead." This came just a few weeks after the team at Goldman Sachs upgraded their rating on his company's shares from Neutral to Buy.
This move came on the back of Pfizer's plans to launch five new molecular entities, which are expected to generate a $10-15 billion market opportunity by 2030. Goldman's price target of $60 points to the upside of at least 30% from where shares were trading on Monday. It would also put them close to their all-time high from July 2021. 
Potential Downside
However, risks remain. This stock has been trending down since tagging those highs, and investors will be watching closely to see if shares can hold the $40 mark. This was where the bears ran out of steam last October, and they're less than a 10% move away from testing them again. 
The Wells Fargo team also flagged this risk last week when they downgraded Pfizer shares from Overweight to Equal Weight. Analyst Mohit Bansal and his team wrote to clients that "we think Pfizer needs a COVID reset before the stock could work again".
They trimmed their price target on the company back to $50 from $54 per share, which, to be fair, still suggests some marginal upside from here, but not much. Still, they were cautiously optimistic about the company's longer-term potential for returns once the near-term COVID-related headwinds are dealt with. 
Getting Involved
For those thinking about getting involved, it feels like this is one with which you might have to pinch your nose for a little while. To be sure, Pfizer remains one of the pharma giants that is going nowhere, but shares aren't as hot as they were a few years ago. Still, with a price-to-earnings ratio of less than 9 and a dividend yield of 3.63%, you have to think they're a bit of a bargain down here.